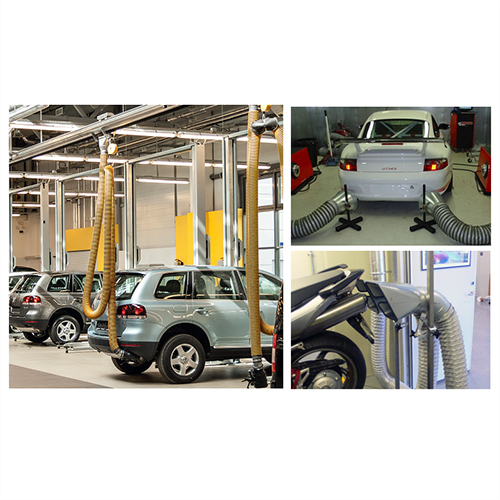 Vehicle Exhaust Etraction
Product Description
We give Vehicle exhaust Extraction frameworks that guarantee clean air in the workplace of vehicle mechanics and firemen. Diesel motors, utilized in fire engines, produce a blend of harmful gases and particulates from the burning procedure. The following Vehicle Exhaust Extraction are made with best quality metal base and a stable structure which easily gets fit in any kind of space. We deliver the following product at leading market prices.
DeGATECH offers a wide range of vehicle exhaust extraction equipment that can be used in motorbikes, cars, vans, trucks or bus workshops. Workshop Managers can choose a system that best suits their specific application with single extractor stations, centralized installations, fixed, mobile, wall or floor mounted systems available.
However; DeGATECH offers much more than just vehicle exhaust drops, reels or rails, we offer complete system solutions. DeGATECH will properly engineer, install and commission the entire system for you from the drops, reels or rails to the ducting and right back to the exhaust fan.
The manually operated Hose Reel is spring recoiled and its hose and nozzle hang at a convenient height above the operators head. After use, manually disconnect the nozzle, give the hose a pull and the reel will recoil the hose.
DeGATECH has always been involved in research and development in the vehicle & Diesel generator exhaust gas extraction sector, setting itself among the most innovative brands in the sector. For DeGATECH, the quality of the air in the work environment inside the workshops is the priority for creating products that allow operators to work in a clean environment, safeguarding their health. The innovation of DeGATECH extraction products, allows for greater work performance and time optimization, thereby increasing the productivity of the workshop.
FEATURES :
Big reach area
Long service life
No additional space required
Easy installation
Robust and reliable design
Wide selection of hoses and nozzles
INDUSTRIES AND APPLICATIONS :
Car repairing shops
Service stations
Inspection posts
Transports depots
Garages
Military vehicle depots
Contact Us
B No. M 606, Megacentre, Magarpatta City,, Pune, Maharashtra, 411028, India
Phone :+918037268276