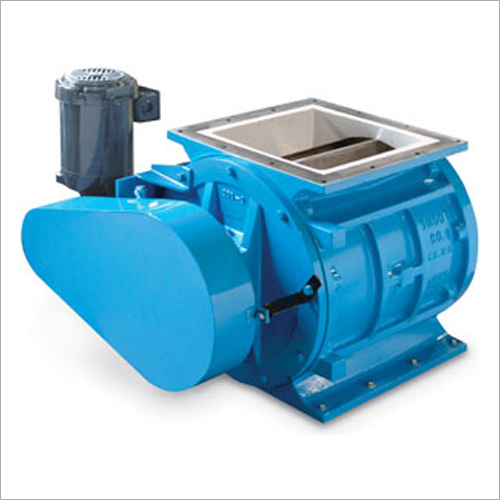 Rotary Airlock Valve
Product Description
DeGATECH uses rotary valves is a critical component for many dust collection processes where the dust load is quite high or wherever the dust needs to be discharged safely in the dust drum or in jumbo bags. Rotary valves make it easier to control the flow of material from bins, hoppers, or silos, onto conveying or processing systems.
DeGATECH Rotary valves (also known as airlocks, rotary feeders, or airlock feeders) transition material from one pressurized point, such as a dust collector, to another unpressurized point, such as a drum or bin. The valve seals a pressurized system against loss of air and pressure. Rotary Valves help ensure loss of product during processing is minimized.
Typical dust collection applications for rotary airlocks are dust collection, pneumatic conveying, pollution control, mixing, feeding, weighing, drying, and blending. Some of the relevant industries for rotary airlocks include metalworking, cement, minerals, agriculture, wood, paper, rubber, textiles, grains, paint, pharmaceutical manufacturing, and many more.
DeGATECH, manufactures a full product line of rotary valves. We stock a full range of rotary valves if you are looking for a solution to your rush order. We also engineer and manufacture custom rotary valves specific to your plant's needs.
DeGATECH offers a complete line of rotary airlocks for dust collectors. Our airlocks can be used in such applications such as gravity discharge of filters, rotary valves, cyclone dust collectors, and rotary airlock storage devices to precision feeders for dilute phase and continuous dense phase pneumatic conveyor systems.
Many options for our rotary valves are available in cast iron housings, stainless steel housing, high temperature ratings, chrome plating, open and closed rotors, tip options, and more. Here are a few sample drawings for some of our in-stock rotary valves:
4 Inch Rotary Valve
6 Inch Rotary Valve
8 Inch Rotary Valve
10 Inch Rotary Valve
12 Inch Rotary Valve
14 Inch Rotary Valve
16 Inch Rotary Valve
We can assist you in selecting the right Rotary Air-Lock for your Baghouse, simply Contact Us for more information, and quotation
Contact Us
B No. M 606, Megacentre, Magarpatta City,, Pune, Maharashtra, 411028, India
Phone :+918037268276