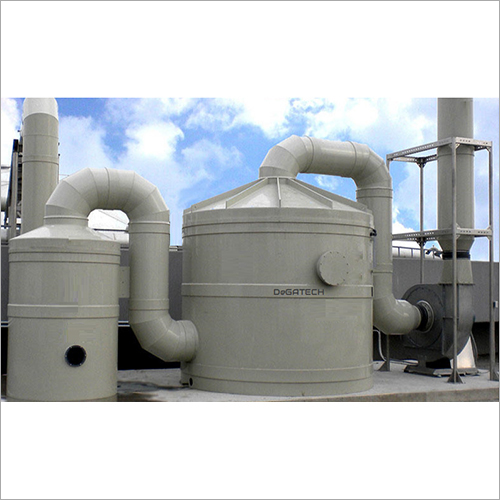 Plate Type Wet Scrubber
Product Description
DeGATECH Plate Colum Scrubber Wet Gas Scrubbers collect particulates, and absorb vapors and gases. High collection efficiencies (99% @10 microns) are achieved with low water consumption and minimum pressure drop. This is the most efficient low energy scrubber available. Capacities upto 200,000 CMH
Water requirements are typically 3 GPM per 1000 ACFM. Unique flexibility is furnished by Plate Type Wet Scrubbers. Made with the future in mind, additional stages can be added to existing installations to improve efficiency to handle tomorrow's requirements, without increasing liquid consumption. There is no need to buy complete new units.
Plate Column Scrubber is the simplest of wet scrubber and works on custom designed to capture dust particles, VOCs, chemical fumes, and other water / chemically soluble fumes and Vapors generated in industrial process.
TYPES OF PLATE COLUMN WET SCRUBBER :
DEG-WSP-V Series (Plate Type Wet Scrubber, Vertical Flow)
FEATURES :
Gives high collection efficiency of solids and gaseous pollutants
Provides minimum pressure drop
Fumes are also be absorbed
Maintenance cost is low
Emission of minimum product through exhaust
Ability to handle high temperature
99% collection efficiency for 10 microns or larger.
Ability to collect both gases and particulate matter
Multiple stages can be provided.
ADVANTAGES :
Optimal performance for cooling, condensing and heat recovery for applications with hot flue gases.
High absorption efficiency for gases and vapors. Experts agree that impingement plate towers have the ability to remove gaseous pollutants to any desired concentration if a sufficient number of plates are used. This means high mass transfer rates can be achieved.
Both particle collection and absorption of gases, vapors, etc. can be done at the same time.
Extensive experience with many applications available.
Integral sump or separate recirculation system designs available to minimize total water consumption.
Can handle high temperatures and temperature fluctuations.
No moving parts to maintain.
These high efficiencies are achieved at a low pressure drop.
Needs less scrubbing fluid than most other scrubbers.
APPLICATIONS :
Chemical industries
Pulp and paper industries
Petrochemical industries
Steel making
Corn Processing Facilities,
Food Manufacturing,
Pharmaceutical industries
Fertilizer production and processing industries
Machining and Grinding exhaust,
Fiberglass & Composite Industries,
Utility Boilers,
Foundries and Metal Finishing Operations.
Contact Us
B No. M 606, Megacentre, Magarpatta City,, Pune, Maharashtra, 411028, India
Phone :+918037268276