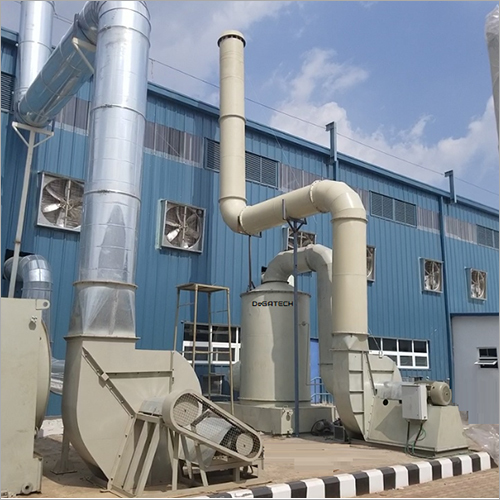 Packed Bed Scrubber Vertical Flow
Product Description
Packed tower scrubbers (also referred to as packed bed or packed column scrubbers) are designed for chemical scrubbing of contaminants from gas streams. Internal packing in the scrubber housing provides a large wetted surface area to induce intimate contact between the contaminated gas and the scrubbing liquid. The contaminant is then absorbed into or reacted with the scrubbing liquid. Recirculation of the scrubbing liquid, which may contain caustic or acid scrubbing agents, is often required to achieve the desired outlet emissions.
Packed bed Scrubber are custom designed to capture sub micron particulate matter, chemical fumes, odors, and other water / chemically soluble fumes and vapours generated in industrial process. All wet scrubber works on the principle of absorption technology, where the pollutants is made in contact with scrubbing liquid. The pollutants gets absorbed by scrubbing liquid either physical or by chemical means. The capturing efficiency of the scrubber can be increased by increasing the time of contact of flue gas with scrubbing liquid.
In packed bed scrubber we use PP Pall rings, SS Pall Rings, saddles etc so called packings to increase scrubbing efficiency. We supply counter flow (vertical scrubber) and cross flow type (Horizontal scrubber) and multi scrubber arrangements based on site constraints and efficiency required. The sizing of scrubber, selection of scrubber solution, Material and inner lining is critical in designing wet scrubber for a particular application. DeGATECH designs and builds complete scrubbing systems including multiple stages as per application demand and customers expectations.

Common contaminates removed by DeGATECH Packed Bed Fume Scrubbers
H2S
HCl
HF
HBr
HCN
HNO3
NH3
Formic acid
Chromic acid
SO2
Cl2, F2, Br2
BCl3, BF3
Formaldehyde
Ethylene compounds
Soluble alcohols, acids, & VOCs
And many others
TYPES OF PLATE COLUMN WET SCRUBBER
DEG-WSPB-V Series (Packed Bed Wet Scrubber, Vertical Flow)
FEATURES
Capacities: 10 to 80,000 CFM with a single unit
Efficiencies to 99.97%
Vertical and horizontal configurations
Counter-flow and cross-flow models
Cylindrical and rectangular construction designs
Pre-quench and DeGATECH i stages available
Materials of construction include:
FRP
RTP (Reinforced Thermoset Plastic) and dual laminate
PVC and CPVC
Polypropylene and polyethylene
Stainless steel, mild steel, and FRP-lined mild steel
Wide range of packing media including rings and saddles in various materials. Structured packing is also available.
Complete instrumentation and electrical controls are available for stand alone operation or connection with a facility's centralized control or monitoring systems.
Chemical treatment, including oxidation and neutralization, is available to increase absorption of gaseous pollutants.
Corrosion resistant fan on the inlet or outlet side of the scrubber.
Corrosion resistant recirculating SS 316L pumps for scrubber liquid re-circulation.
Non-plugging spray nozzles for wetting packing in a wide range of corrosion resistant materials. Special liquid distributors may also be used.
Moisture eliminators and demister pads or loose fill type designs are available.
ADVANTAGES
Wet scrubbers have the ability to handle high temperatures and moisture.
In wet scrubbers, flue gases are cooled, resulting in smaller overall size of equipment.
Wet scrubbers can remove both gases and particulate matter.
Wet scrubbers can neutralize corrosive gases.
Can handle flammable and explosive dusts with little risk
Provides gas absorption and dust collection in a single unit
Provides cooling of hot gases
Compact; can often be retrofitted into existing collection systems
Corrosive gases and dusts can be neutralized
DeGATECH has a strong team of consultants and engineers having deep knowledge in design and commissioning of scrubber across various industries. contact us to assist you in selecting efficient and economical scrubber to your specific process and pollution control needs.
APPLICATIONS :
Chemical industries
Pulp and paper industries
Petrochemical industries
Steel making
Corn Processing Facilities,
Food Manufacturing,
Pharmaceutical industries
Fertilizer production and processing industries
Machining and Grinding exhaust,
Fiberglass & Composite Industries,
Utility Boilers,
Foundries and Metal Finishing Operations.
Contact Us
B No. M 606, Megacentre, Magarpatta City,, Pune, Maharashtra, 411028, India
Phone :+918037268276