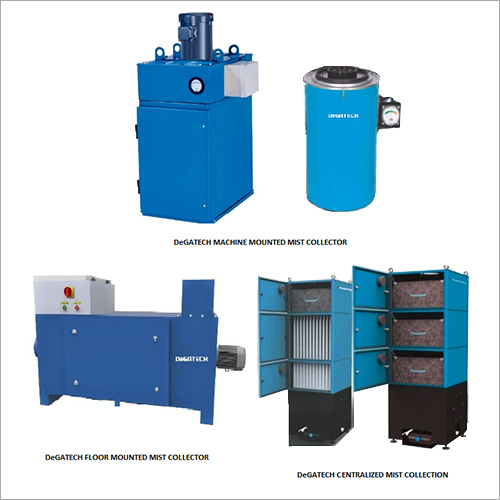 Mist Collector
Product Description
MIST COLLECTORS - FOR STRAIGHT OIL, WATER MIST & OILY SMOKE MIST
Mist collectors and fume collectors reduce the amount of mist, aerosols and fumes in the workplace atmosphere. They can be used for treating media streams involving combinations of liquid/vapor, or solid/vapor. Mist collectors and fume collectors are commonly used alongside machining equipment and other devices which generate oil mists or plumes of smoke or debris during operation. Typically, they are designed either as source collectors to capture material directly or as ambient collectors to treat air as it circulates through an environment.
DeGATECH designed a customizable mist collector portfolio that specializes in both the reliable separation of emulsion coolant and oil mist during cutting and metal working. All the DEG-MCO, MCW & MCS Series Mist collectors include high efficiency filter media to ensure successful filtering of coolant and oil mist.
The efficiency of media filter collectors varies depending on the filter type used. Pressure drops for these systems are usually higher than other types of mist collectors, so power requirements are often higher. Current cartridge mist collectors are typically modular and include options for pre-filters, HEPA, activated carbon, as well as high-powered fans that can reach as high as 18,000 cfm. Pre-filter options include:
Mist and fume collector units are often suited best for certain types of media with different particle sizes.
TYPES OF MIST COLLECTORS
DEG-MCO Series : (Oil Mist Collector)
DEG-MCW Series : (Water Mist Collector)
DEG-MCS Series : (Oily smoke Collector)
Water mists have particle sizes from 2 to 20 microns, Oil mists have particle sizes from 0.8 to 5 microns, Smoke has particles ranging from 0.07 to 1.2 microns.
Metal screens are used for heavier dust/grit from wet grinding.
Metal mesh is used for most water-soluble mist.
Polypropylene mesh is used for most straight oil mist.
High efficiency 1st stage is used for oily smoke.
FEATURES
High efficiency backward inclined centrifugal fan assembly
Unit for individual CNC machines
Integrated pump & HEPA options
Two+ machines/centralized systems
Modular (customized) design
Modular design
Reusable wire-mesh filters
Floor-accessible maintenance
Custom engineered structural supports
Inlet and outlet transitions for duct connections
Airflow range from 500 CMH to 20000 CMH
Temperature withstanding capacity range from 30 deg C to 150 Deg C
Insulation for high-temperature applications
Depending on the size of your facility and the level of mist hazardous your operations produce, DeGATECH Engineering Solutions can design and install a system of Mist collectors to reduce this risk and maintain employee health
ADVANTAGES
Reduce the impact on employees - Oil mist particles of 0.3~3.5UM will remain in the human body, posing a health hazard.
Reduce work accidents- Oil mist deposition makes the work area, floor and walkway slippery, which is easy to cause wrestling accidents.
Reduce fire hazards- Oil deposits from potential fire hazards on walls, ceilings, and equipment.
Reduce the consumption of coolant - Oil Mist collected can be reused as an economic expense for the plant to reduce coolant.
The impact on the machine- Maybe the cause of machine and internal electrical system failures.
Reduce fire hazards- Oil deposits from potential fire hazards on walls, ceilings, and equipment.
Reduce the consumption of coolant - Recycled oil mist can be reused as a factory to reduce the economic cost of coolant
APPLICATIONS
Lathes (single and multi-spindle)
Sharpeners and grinders which are equipped with cabin protection enclosures
CNC machine tools
Grinding machinery
Turning machinery
Milling machines
Drilling operations
Complex machining centers
Contact Us
B No. M 606, Megacentre, Magarpatta City,, Pune, Maharashtra, 411028, India
Phone :+918037268276