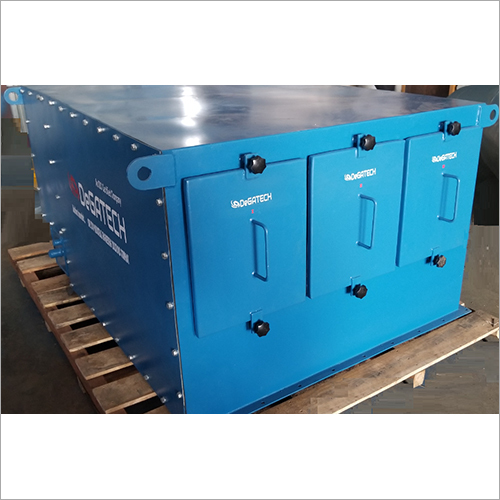 Insertable Dust Collectors
Product Description
DeGATECH- MOD SMART SERIES equipment is the most compact heavy-duty dust collector in the World. This equipment is easy to install, operate, and maintain. DEG- MOD SMART SERIES Cartridge collectors are the economical solution for dust and product recovery applications. This SMART compact equipment is the best-in-class dust collector which is 60% smaller as compared to conventional dust collector available in the Industry.
All DEG-MOD SMART SERIES cartridge dust collectors are equipped with special DeGATECH MicroDEN filter cartridges which offers MERV 15 filtration efficiency and are also water washable at the time of filter disposal. This feature enhances the filter life by 3-4 times and cuts your filter replacement cost by 3 times than any reputed dust collectors available in International market.
Types Of Insertable Dust Collectors
DEG-MOD (MODULAR - SMART SERIES)
This super compact Modular Dust Collector is used for collecting and filtering the dust at Source. A reverse pulse returns dust to the main stream.
FEATURES
A variety of specifications to choose from
Can handle most difficult situations like hot and moist air coming from the process
Single equipment capacity ranges from 500 CMH to 20,000 CMH capacity
Filters can be Water-washed at the time of filter disposal.
Compact size of improved filters allows effective collection with less air movement and smaller fan, reducing energy costs.
Compact size allows use of Air Cleaner in areas where space limitations complicates installation of other collection systems.
Reverse pulse cleans filters; replacement of compact filter elements is a one-hand, no-tool procedure performed from the clean side of the collector.
Depending on the size of your facility and the level of hazardous dust your operations produce, DeGATECH Engineering Solutions can design and install a system of dust collectors to reduce this risk and maintain employee health. Our dust collectors require minimal maintenance, with lower initial purchase prices.
Advantages
Provides at source filtration, requires no ducting system
Equipment operating can be interlocked with the process, hence offers huge power savings.
Modular structure, easy to assemble within less time
Simple and compact structure, requires no additional space for installation
Cuts power & compressed air consumption requirement by less than half
Faster ROI , due to reduced aftermarket filter requirement.
Reduced downtime for filter replacement
A variety of media can be adapted to a variety of industrial and process
High-quality diaphragm valve & intelligent controller, differential pressure meter
Control mode: manual/automatic/differential pressure
Short delivery time
No leakage, "zero discharge", emission standards below to 5 mg or less than <2 mg/Nm3
User-friendly design, easy to maintain.
Applications :
Conveyor Transfer Points,
Pneumatically filled silos,
Chute Discharge,
Vibrating Screen
Vibrofeeder discharge
Crusher discharge
Bag Dump Stations
Hopper Loading
Bucket Elevator discharge,
other Individual applications.
Contact Us
B No. M 606, Megacentre, Magarpatta City,, Pune, Maharashtra, 411028, India
Phone :+918037268276