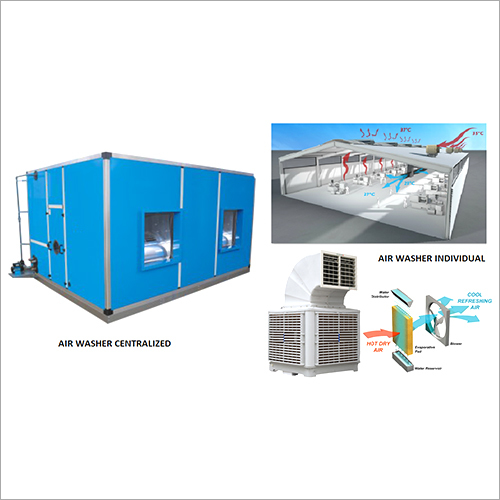 Industrial Air Washer
Product Description
Designed and manufactured to perfection, DeGATECH is one of the most excellent and leading manufacturers and exporters of Industrial Air Washer. Our entire assortment is widely acknowledged for its features like strong body construction, low power consumption, easy installation and durability. Manufactured under the supervision of team of diligent experts, we also offer customized air washers as per the specifications provided by our clients. Our eco friendly Industrial Air Washer is applicable for effective cooling through a natural process and provide fresh ambiance.
TYPES OF AIR WASHER
CENTRALIZED AIR WASHER
EVAPORATIVE PORTABLE AIR WASHER
FEATURES :
Excellent functionality
Rugged design
Impeccable finish
Enhanced durability
SPECIFICATIONS :
Capacity for Air Washer : 2000 to 40000 CFM with single Blower & 4000 to 80000 CFM with Single or multiple blowers
Base Frame of Air Washer: The total assembly is mounted on a horizontal member of heavy Mild steel channel.
Air Washer Fan Section : Constructed in GI/SS Sheet with Inspection Doors.
Wet Section : Constructed in GI/SS Sheet.
Water Tank Structure of Air Washer Constructed in GI with Frp coated/SS
Air Washer Blower : Dynamically Balanced Forward Curved, DIDW Type Make Dynamic / Imported.
Cellulose Paper Pad :Imported
Air Washer Electric Motor : Three Phase, TEFC squirrel cage induction motor of standard makes (Crompton, ABB and Kirloskar etc.)
Drive Pulley : V-Groove with/without Taper Lock hub.
V-Belts : Fenner make.
Pump: Monoblock make Crompton / Kirloskar.
Filter used in Air Washer: HDPE/Aluminum/GI Mesh Filter, Micro VEE, HEPA as per requirement.
Pipe Fittings in Air washer : PVC piping with all Necessary fittings such as float valve, quick fill, overflow & drain ports.
ADVANTAGES :
Power Consumption 1/10 Th of air-conditioning plant.
Regular features like bleed-off/Auto cut-valve and rubber-Mountings
Fitted with High-Cooling-Efficiency (Above 86%) Cellulose pad.
Fabricated from polyester-coated G.I. Sheet for long-life and elegant looks.
APPLICATION :
Engineering
Chemical
Malls
Hotels
Offices
Automobile
Garment
Contact Us
B No. M 606, Megacentre, Magarpatta City,, Pune, Maharashtra, 411028, India
Phone :+918037268276