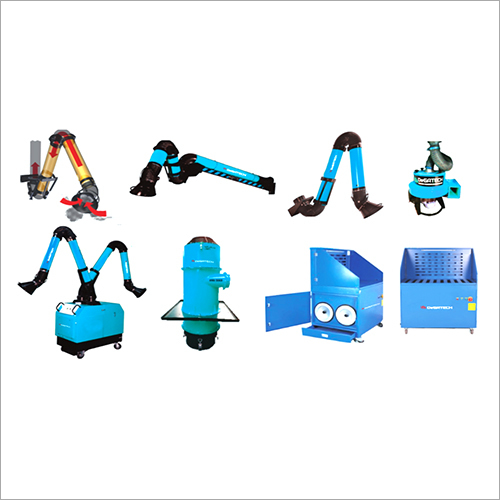 Fume Extractor
Product Description
Fume Extractor For Welding & Thermal Cutting
Welding and metal cutting fumes cause serious health problems and affect production. Fumes are generated in various industry process like Laser cutting, Laser Marking, Plasma cutting, Welding, Chemical Laboratory, and also in chemical storage applications. These fumes hazardous to human health and should be effectively removed, Filtered and then passed to atmosphere as per Pollution Control Board norms, Occupational Safety norms to improve health, safety and productivity of employees. Automated welding equipment such as robots - and the operators - can be subject to residual welding fumes and also need to be protected. These fumes should be effectively captured and filtered before passing it to atmosphere. DeGATECH had been custom designing, manufacturing , installation and commissioning of Weld Fume extractors, Laser & Plasma Cutting Fume Extraction system together with hood, ducts, blowers, Filter unit and chimney for its customers.
DeGATECH offers everything from single welding fume extractors to complete welding fume extraction systems. We carry out feasibility studies and planning for Welding and Metal fabrication industries.
TYPE OF FUME EXTRACTORS
| | |
| --- | --- |
| 1) DEG-EXA SERIES | (Flexible Extraction Arms for Grinding, Welding & Laboratory) |
| 2) DEG-PW SERIES | (Portable Welding Fume Extractor |
| 3) DEG-DTSERIES | (Grinding & Welding Downdraft Tables) |
| 4) DEGA-PRO-RSERIES | (Robotic Booth Extraction and On Torch fume extraction systems) |
| 5) DEGA-PRO- L SERIES | (Laser Fume Extractor) |
| 6) DEGA-PRO- P SERIES | (Plasma / Arc Fume Extractor) |
| 7) DEG-PLA-TAB | (Plasma Cutting Table Assembly) |
| 8) DEG- CART -HZ Series | (Thermal Spray) |
| 9) DEG-SPKT | (Spark Trap assembly for Live Sparks) |
FEATURES
High dust removal efficiency, up to 99.95% down to 0.5 micron - 0.3 Microns
Stable operation, not affected by the resistivity of dust;
Not restricted by dust type, concentration difference or particle size
ATEX Compliant solutions as per NFPA guidelines.
Self-cleaning, Heavy duty construction, Direct-Coupled-VBelt Driven drive shaft, High entry option
Emission concentration can lower upto 10 mg/Nm3, even < 2 mg/Nm3 .
Bag Filter Houses ranging from small capacities 1500 CMH upto 2,00,000 CMH and above.
Can handle high dust loads 15 gms/Nm³ and above upto 40 gm/Nm3
High efficiency and stable dust catching performance, reclaim useful raw materials in large quantities
Variety of media used, DeGATECH Cellulose-polyester blend, Spunbond, MicroDEN FR (Waterwashable filter) , Antistatic, Conductive, PTFe membrane Lamination, Fire Retardant etc.
High performance, Low maintenance required, Tough construction with 5 Years Workmanship Warranty
ADVANTAGES
Modular structure, easy to assemble within less time
Simple and compact structure
A variety of media can be adapted to a variety of industrial and process
High-quality diaphragm valve & intelligent controller, differential pressure meter
Short delivery time
Water washable Filter Cartridge
Improve workplace environment
Protect your workers health, equipment and processes
Reduce production disturbances and improve profit
No leakage, "zero discharge", emission standards below < 10mg or less than < 2 mg/Nm3
User-friendly design, easy maintenance
DeGATEACH can provide you with a complete solution that helps protect equipment and staff from potential harmful fumes and dust can cause severe bad conditions. Regardless of the type of dust and fumes produced in your facility. Depending on the size of your facility and the level of hazardous dust-fumes your operations produce, DeGATECH Engineering Solutions can design and install a system of dust collectors to reduce this risk and maintain employee health.
Contact Us
B No. M 606, Megacentre, Magarpatta City,, Pune, Maharashtra, 411028, India
Phone :+918037268276