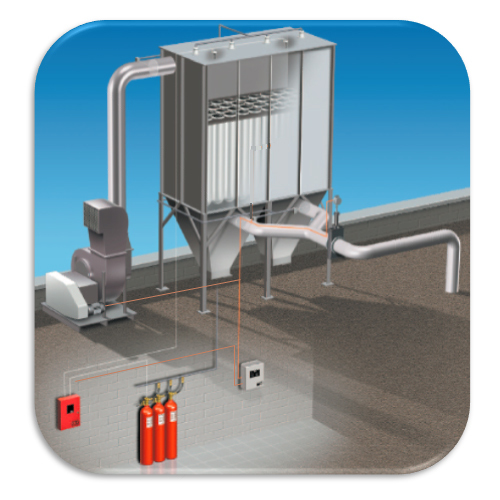 Fire Suppression System
Product Description
With many types of industrial dust collection involve the collection of hot compounds, or sparks which can pose a fire hazard within the system. This can further lead to potential Dust Explosions which more than just damaging property, can lead to massive loss of life within your facility.
DeGATECH Fire Suppression technology is available for in your existing dust collector. This technology works by installing various sensors, and piping throughout your Baghouse. When the sensors detect that a ignition source is present, they work by releasing a fire suppression agent either directly into the collection media or upstream in the dust collection system. This allows the airflow to draw the agent into the filtration system or collector.
Our Fire Suppression systems can use a variety of suppression agents to meet your exact needs. These include:
BENEFITS OF CO2 FIRE SUPPRESSION SYSTEMS
Fast - Within seconds, CO2 penetrates the entire fire hazard areas to smother the combustion.
Environmentally Friendly - CO2 exists as a gas in the earth's atmosphere and is one of the by-products of combustion. Its use has no environmental impact.
Non-damaging - CO2 does not cause spoilage, requires no clean up and leaves no residue.
Non-conductive - CO2 is electrically non-conductive, allowing use for a wide variety of special applications.
Adaptive - CO2 is effective on a wide range of flammable and combustible materials.
ADVANTAGES :
Safe: no damage to structures, furnishings, goods protected
No fire residue
Non-corrosive
No decomposition products
Contact Us
B No. M 606, Megacentre, Magarpatta City,, Pune, Maharashtra, 411028, India
Phone :+918037268276