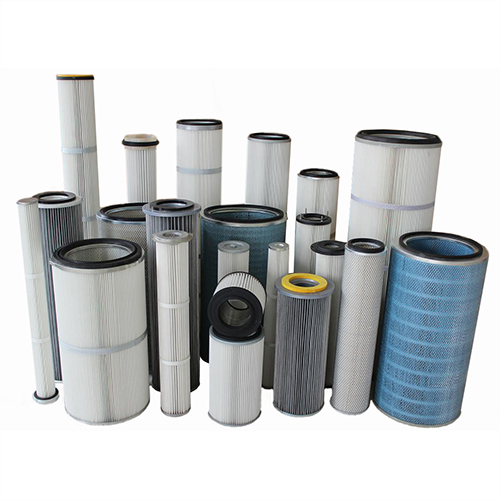 Filter Cartridge
Product Description
We supply industrial filter cartridges for all dust collector types ranging from silo-top collectors, horizontally mounted cartridge collectors, pleated bag collectors, vertically mounted cartridge collectors, flat cell filter collector. We supply customized filters or standard filters for replacement.
Filter Cartridges For Various Industries
With a range of more than 3000 different filters and 23+ types of high-quality filter media, DeGATECHAir Filtration provides air filtration solutions for various industries and dust types, including abrasive, toxic and explosive dust.
We provide replacement filters suitable for Donaldson, Camfil, Clarcor, Esta, Keller, Plymovent, SovPlym, Pilani, Herding, Bystronic, Dantherm, Thermax, Reico, Cosmic granulator, Granulex, Nederman, DISA, Hengst, Scheuch, Kemper, Intensiv Filter, WamGroup and other dust collectors.*
We specialize in dust and fumes from cement, metal/aluminum, food & beverages, woodwork, chemicals, powder coating, plasma/laser cutting, sandblasting, textiles, welding and casting.
In addition to that, we offer customized filter solutions and manufacture exclusive cartridge design for OEMs. Our filter cartridges are certified according to DIN60335-2-69 and EN779.
DeGATECH Filters' selection of thier standard cartridges and pleated elements for dust collectors. We provide only high quality products, individually made to meet your unique requirements, we also offer many other materials including water washable DeGATECH MircoDEN filters to meet your dust collection needs and cuts your filter aftermarket requirement.
Types Of Filter Cartridge
Filter Cartridges
Cylindrical DIN Cartridge
Cylindrical ABS Cartridge
Pulse Jet 3 & 4 Lug Cartridges
Pulse Jet ABS 3-Lug Cartridges
Clean Side Removal Cartridge
CS Dust Cartridge
Thread Cartridge
Square End Cap Cartridge
Conical Thread Cartridge
Two Bolt Thread Cartridge
Steck Cartridge
Multifit Pleated Bag cartridge
Top Loader Pleated Bag Cartridge
Bottom Loader Pleated Bag cartridge
Steel Top Loader Pleated Bag
3 METER TOP LOADER PLEATED BAG
Curly Bracket Cartridge
Conical Click Cartridge
Double conical cartridge
Oval cartridge - Dirty side removal STAR BOTTOM..etc
FEATURES :
35% more media extends filter life and saves money
More on-time with fewer filter changeouts
Maximizes pleats per inch in cellulose polyester blended media.
MERV 13, MERV 15 & MERV 16 available
Media blends include fire retardant medias
Excellent efficiency on sub-micron particles
Fine fibers promote surface loading of dust
Surface load dust pulses easily off the cartridge media
Excellent for submicron dusts
MERV15 & MERV 16 initial filtration efficiency
APPLICATIONS :
| | | |
| --- | --- | --- |
| Pharmaceutical | Asphalt Mixing | Wood Working |
| Cement, Steel | Fertilizers | Food Processing |
| Power Plants | Spray Dryers | Foundry |
| Gypsum | Sugar | Welding Fumes |
| Cupola | Asbestos | Engineering Plastics |
| Ceramics | Food & Beverage | Chemical |
| Incinerators | Powder Coating | Adhesives |
| Paints | Shot Blasting | Aviation |
| Metallurgical | Laser & Plasma cutting | Shipbuilding |
Contact Us
B No. M 606, Megacentre, Magarpatta City,, Pune, Maharashtra, 411028, India
Phone :+918037268276