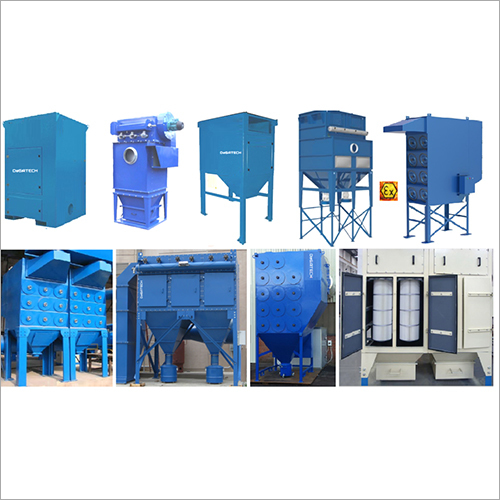 Cartridge Type Dust Collector
Product Description
DeGATECH's Pulse Jet-Cartridge Dust Collectors offers better value and performance than any International dust collector on the market. At DeGATECH, we are constantly innovating the DEG-CART design for improvement.
The De GATECH Cartridge Dust Collection System offers maximum cleaning performance with 35% more filter media than reputed International competitor's models. The DEGATECH features powerful Italian pulse cleaning technology to increase filter life and efficiency. Heavy duty design makes the Cartridge Dust Collection the most durable dust and fume collector in the industry. In addition, the modular design of the DEG-CART Series means it can be customized for any application.
TYPES OF CARTRIDGE DUST COLLECTORS
DEG-CART-VA Series : Vertical Alignment Of Filter Cartridges
DEG- CART-SM Series : Vertical Alignment of Filter Cartridges (SMART Series, smaller foot prints)
DEG- CART -HZ Series : Horizontal Alignment of Filter Cartridges (Round & Oval Filter Cartridges)
DEGA-PRO : Exclusively used for Laser & Plasma Cutting application.
The DEG-CART & PRO Series is a new, best-in-class dust collector that uses 35% less filters than a typical cartridge dust collector. All cartridge dust collectors are equipped with special DeGATECH MicroDEN filter cartridges which offers MERV 15 filtration efficiency and are also water washable at the time of filter disposal. This feature enhances the filter life by 3-4 times and cuts your filter replacement cost by 4 times than any reputed dust collectors available in International market. The DEG-CART & PRO dust collector creates superior performance at the lowest cost of ownership.
DEG- CART -HZ & DEGA-PRO Series:
Easy to install, operate, and maintain, DeGATECH HZ & DEGA-PRO Series Horizontal Load Cartridge collectors are an economical solution for dust and product recovery applications. With convenient side filter removal and greater filter efficiency, the HZ -Series Cartridge Collector makes an economical solution for indoor installations with low overhead clearance. The DEG-CART HZ & PRO series is available in a wide range of sizes and combinations to suite for a wide-range of applications, big or small.
DEG-CART-VA Series
Load Cartridge Collectors bring efficiency and economy to dust collection. Designed for easy installation, operation and maintenance, Griffin's TLC series is a flexible answer to a variety dust collection and product recovery concerns. These pulse jet filter vents provide continuous fabric filtration for extended periods. And without internal moving parts, maintenance is kept to a minimum.
DEG- CART-SM Series
This is performance and reliability in a compact package that fits anywhere. But installation flexibility isn't the only benefit of DeGATECH SMART cartridge collectors. They also deliver high filtration efficiency with minimal pressure drop. And with true down flow operation and vertically mounted filters, there is less dust re-entrainment. As a result, our SMART SERIES Dust Collectors are ideal for in-plant dust and product recovery applications.
Like all of our dust collection systems, these units are built to be exceptionally rugged and ready to stand up to heavy-duty use. As a full service dust collection engineering and manufacturing firm, we also provide rotary valves, screw conveyors, sealed drums, bulk bag discharges, discharge lids, bin vents, air operated pneumatic transfer systems.
We also manufacture filter bags in a wide range of filter media. We can help you identify the right filter media, configuration, and media treatments for your application that will provide the best value and lowest maintenance costs over time.
FEATURES
High dust removal efficiency, up to 99.95% down to 0.5 micron - 0.3 Microns
Stable operation, not affected by the resistivity of dust;
Not restricted by dust type, concentration difference or particle size
ATEX Compliant solutions as per NFPA guidelines.
Self-cleaning, Heavy duty construction, Direct-Coupled-VBelt Driven drive shaft, High entry option
Emission concentration can lower upto 10 mg/Nm3, even < 2 mg/Nm3 .
Bag Filter Houses ranging from small capacities 1500 CMH upto 2,00,000 CMH and above.
Can handle high dust loads 15 gms/Nm³ and above upto 30 gm/Nm3
High efficiency and stable dust catching performance, reclaim useful raw materials in large quantities
Variety of media used, DeGATECH Cellulose-polyester blend, Spunbond, MicroDEN (Waterwashable) , Antistatic, Conductive, PTFe membrane Lamination, Fire Retardant etc.
BIBO, Bag-in-bag -out for filter removal
High performance, Low maintenance required, Tough construction with 5 Years Workmanship Warranty
ADVANTAGES
Modular structure, easily to assemble within less time
Simple and compact structure
A variety of specifications to choose from
A variety of media can be adapted to a variety of industrial and process
High-quality diaphragm valve & intelligent controller, differential pressure meter
Control mode: manual/automatic/differential pressure
Short delivery time
No leakage, "zero discharge", emission standards below to 10mg or less than 2 mg/Nm3
User-friendly design, easy maintenance
DeGATEACH can provide you with a complete solution that helps protect equipment and staff from potential harm that dust can cause. Regardless of the type of dust produced in your facility. Depending on the size of your facility and the level of hazardous dust your operations produce, DeGATECH Engineering Solutions can design and install a system of dust collectors to reduce this risk and maintain employee health. Our dust collectors require minimal maintenance, with lower initial purchase prices.
OUR CARTRIDGE FILTERS
DeGATECH also manufactures and supplies custom and in stock Cartridge filters for any type of Cartridge Dust Collector. Our dust collector Filter Cartridges are available in many top and bottom configurations and a variety of filter media options to handle the dust load and dust properties of your work environment.
APPLICATIONS :
| | | | |
| --- | --- | --- | --- |
| Pharmaceutical | Pneumatic Conveying | Polishing | Papermaking, |
| Plasma Cutting | Welding Fume | Mixing /blending | Ceramics |
| Food Industry | Woodworking | Glass plants\ | Mining |
| Chemical Industry | Material handling | Powder processing | Battery plants, |
| Mining Industry | Metal fabrication | Primary metals | Steel making |
| Powder Coating | Grinding | Power | Sanding |
| Material Handling | Sawing | Foundaries | Manufacturing, |
Contact Us
B No. M 606, Megacentre, Magarpatta City,, Pune, Maharashtra, 411028, India
Phone :+918037268276