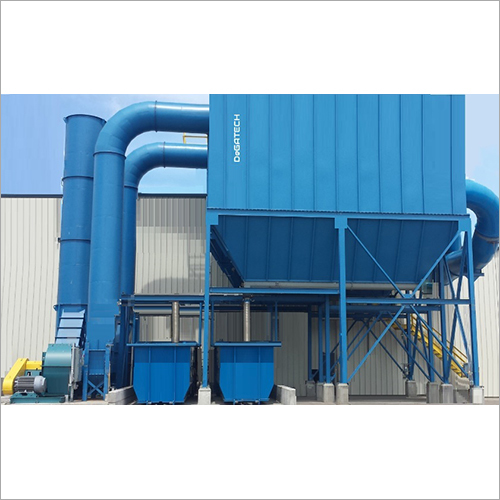 BagHouse Dust Collector
Product Description
DeGATECH's Pulse Jet-Air Dust Collectors are an effective solution to an array of solids processing and product recovery projects. Built as a stand- alone unit, or as modular construction for unlimited airflow, these pulse jet collectors can perform under the harshest conditions. Every DeGATECH unit is built to last, and with a mind for maintenance, DeGATECH Pulse Jet Units will minimize downtime while maximizing long-term savings.

TYPES OF BAGHOUSES :
DEG-BG-VA Series : Vertical Alignment Of Filter Bags (Conventional Technology)
DEG-BG-SM Series : Vertical Alignment Of Filter Bags (SMART Series, 40% smaller foot prints)
DEG-BG-HZ Series : Horizontal Alignment of Filter Bags (Envelope Shaped Filter Bags)
DEG-BG- RA Series : RABH Series (Reverse Air Bag House)
The unique DeGATECH series of Bag House dust collectors can deliver a great solution for nearly any filtration application. We engineer and manufacture industrial pulse jet baghouse dust collection systems for a broad micron range of dust applications. Our engineers custom design and fabricate your baghouse to meet your unique air filtration needs and challenges. Our baghouses range in size from 500 to 500000 CMH and are engineered to meet or exceed air quality regulations for optimal plant hygiene and safety. Our low maintenance baghouse systems are self-contained, weatherproof, and fully automated. We supply and install ducting, access platforms, ventilation, instrumentation, walk-in plenums, and easy maintenance access for small or large projects.
As a full service dust collection engineering and manufacturing firm, we also provide rotary valves, screw conveyors, sealed drums, bulk bag discharges, discharge lids, bin vents, air operated pneumatic transfer systems.
We also manufacture filter bags in a wide range of filter media. We can help you identify the right filter media, configuration, and media treatments for your application that will provide the best value and lowest maintenance costs over time.

FEATURES :
High dust removal efficiency, up to 99.9% to 99.97% down to 5 micron
Stable operation, not affected by the resistivity of dust;
Not restricted by dust type, concentration difference or particle size
ATEX Compliant solutions as per NFPA guidelines.
Self-cleaning, Heavy duty construction, Direct-Coupled-VBelt Driven drive shaft, High entry option, tangential inlet option, Inlet baffles, Top access and hopper inspection access doors.
Emission concentration can lower upto 30mg/Nm3, even < 10 mg/Nm3 .
Bag Filter Houses ranging from small capacities 1500 CMH upto 5,00,000 CMH and above.
Can handle high dust loads 50gms/Nm³ and above upto 150 gm/Nm3
Filter bag maintenance and replacement can be operated without much filtration downtime;
High efficiency and stable dust catching performance, reclaim useful raw materials in large quantities
Variety of media used, Polyester Non Woven Needle Felts, Cotton, with coatings and membranes like PTFE, GlassFibre, Anti Static etc.
High performance, Low maintenance required, Tough construction with 5 Years Workmanship Warranty
ÂÂÂ
ADVANTAGES
Modular structure, easily to assemble within less time
Simple and compact structure
A variety of specifications to choose from
A variety of media can be adapted to a variety of industrial and process
High-quality diaphragm valve & intelligent controller, differential pressure meter
Control mode: manual/automatic/differential pressure
Short delivery time
No leakage, "zero discharge", emission standards below to 10mg or less than 2 mg/Nm3
User-friendly design, easy maintenance
Depending on the size of your facility and the level of hazardous dust your operations produce, DeGATECH Engineering Solutions can design and install a system of dust collectors to reduce this risk and maintain employee health. Our dust collectors require minimal maintenance, with lower initial purchase prices.
SERIES :
DEG-BG (Bag Dust Collectors)
DEG-CF (Filter bags Solutions)
BAGHOUSE FILTERS
DeGATECH also manufactures and supplies custom and in stock baghouse filter bags for any type of baghouse dust collector. Our dust collector bags are available in many top and bottom configurations and a variety of filter media options to handle the dust load and dust properties of your work environment.
FEW OF THE APPLICATIONS:
Woodworking, Material handling, Metals fabrication: grinding, sawing, sanding, polishing, Mixing and blending options, Glass plants, Powder processing, Primary metals, Power, Steel making, including steel-making, Papermaking, Ceramics manufacturing, Mining, Foundries. Battery plants
Contact Us
B No. M 606, Megacentre, Magarpatta City,, Pune, Maharashtra, 411028, India
Phone :+918037268276