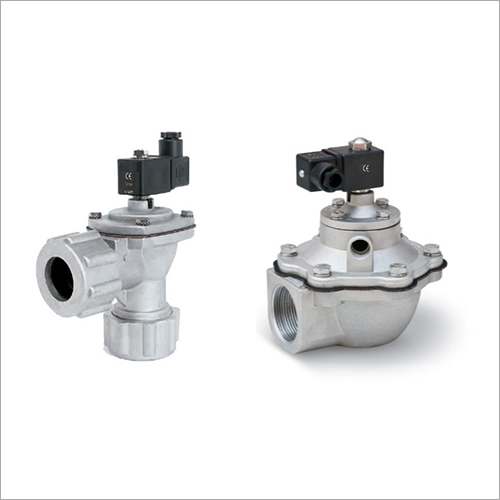 Airflow Diaphargm Valves
Product Description
Diaphragm valves come in a range of configurations to suit all types of pulse jet dust collector cleaning designs. Diaphragm valves use a flexible molded diaphragm to regulate airflow through the filters for optimal cleaning. The diaphragm valve creates a pulse of air that shakes through the bag, shaking off any dirt on the outside of the bag and cleaning the filter.
DeGATECH can provide replacement diaphragm valves for any application. We also provide the diaphragm repair kits for these valves. Also known as rebuild kits, diaphragm repair kits can return your diaphragm valve back to peak performance.
We stock and supply a wide range of brand name diaphragm valve replacements such as:
DeGATECH users have been continuously buying our products and their different spares from our organization to meet their requirements and also their replacement requirements. Our Pulse Jet Valves have a precise quality management system; we are viewed as the outstanding supplier and exporter of optimum grade Pulse Jet Valves which are imported from Italy. These valves are delivered using high quality material and excellent techniques in adherence to set industry standards. Our offered Pulse Jet Valves are mostly used in dust collection system for controlling pressure. It is made available in different specifications for our clients to choose from.
DeGATECH is also recognised as the dust collector parts manufacturer. Our proposed solutions on Pilot Operated Valve for reverse pulse jet bag filters, and offers precisely designed product that customers need. These Dust Collector Valves has only one moving part called as Spare diaphragm, because of such design it gives fast opening and closing and that enhance the life of the valve. Due to high speed operation it not only saves the compressed air but also helps to provide shock air wave for removal of dust from filter bags. Long life, High flow, and quick diaphragm opening and closing activity result into reliable and economical operation of Pulse Jet Valve.
DeGATECH supplied Pulse Jet Valves are driven by integral solenoid pilot operator. At the point when the valve is charged, the trapped air above pulse valve diaphragm is quickly exhausted causing quick opening of main diaphragm pulse valve. When the pilot valve is discharged, air escapes through drain gap of primary pulse jet valve to adjust the diaphragm pressure and immediately closes the valve.
DIAPHRAGM VALVE DUTY CYCLE
The relative duty time cycle for ac voltage is 20% and for DC voltage is 10 % .This implies energised time is maximum 1/5th of de-energised time for AC and 1/10th for DC voltage.
INSTALLATION
Mounting in any location and on any dust collector will not affect Pulse Jet Valve operation. However good design practice is to avoid scale and consolidated water entering valve body for disturbance free performance. Standard end connections of BSP are provided.
Contact Us
B No. M 606, Megacentre, Magarpatta City,, Pune, Maharashtra, 411028, India
Phone :+918037268276